StarSpikes Pro 3

Filter Plug-in - USD

$49.95

Overview
StarSpikes Pro 3 is a plug-in for Photoshop® and many other compatible image editors that allows you to add beautiful diffraction effects to your astroimages or improve the optical spikes your imaging equipment already makes.
This plug-in offers you the ability to control every aspect of the effects and provides mathematically sound renderings, resulting in natural three dimensional-looking and believable output.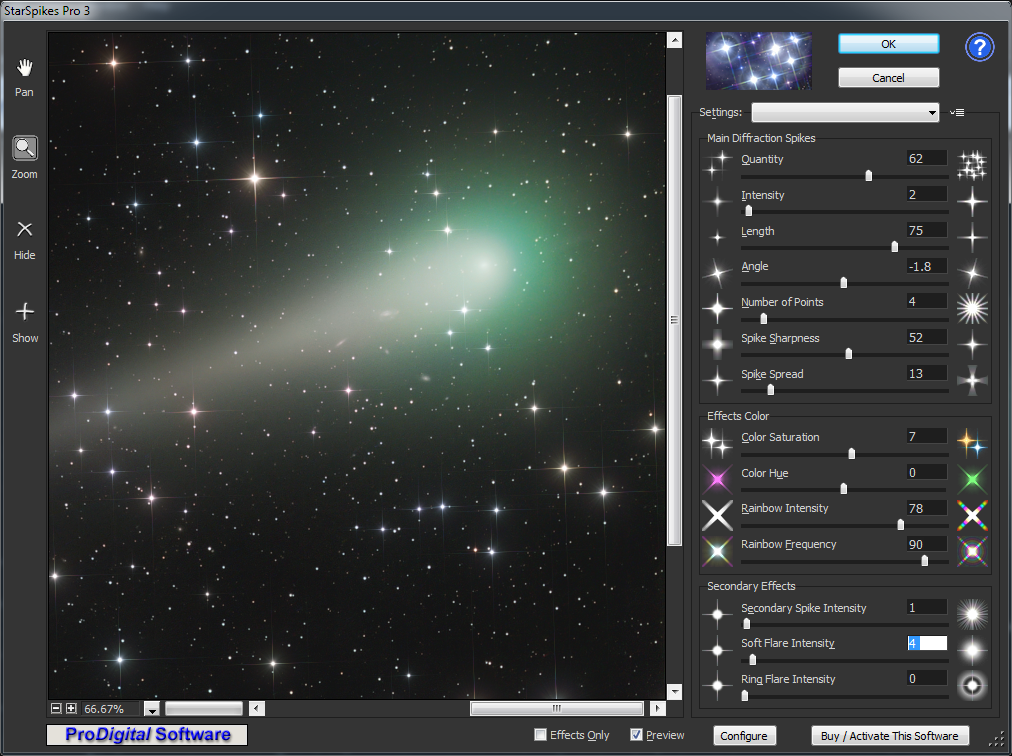 Check out these great features:
Rich Set of Adjustments, Maximum Artistic Control.
32 and 64 Bit, Compatible With Many Editors.
Fast & Interactive, Uses Multiple CPU cores & GPU.
Accurate Star Astrometry, Even In Nebulae.
Effect Editor - Adjust Individual Effects or Add New Ones.
Familiar Photoshop-Style Usability; Be Productive Right Away.
Resizable Dialog that Remembers Where You Put It.
Customizable UI - Dark and Light choices.
Full Featured Scrollable, Zoomable GPU-Accelerated Preview.
Fully Color-Managed.
Sets of Favorite Parameters Can Be Stored and Retrieved.
Optional Output of the Effect Only, Creative Control.
Rich Keyboard Shortcuts.
Full Editor Integration; Works with Selections, Layers, Masks.
Internal Math is 32 Bit for Highest Image Quality.
8, 16, 32 Bit Per Channel Color and Grayscale Image Support.
Mouse-Over Help - Hover Over the Controls to See ToolTips.
F1 Help and (?) Button - Rich and Complete User's Manual.
Super Easy To Use Installer
Try Before You Buy - 15 Day Fully Functional Free Trial.
Special Upgrade Pricing for Version 1 and 2 Users.
Create Beautiful Visual Effects that are a Cut Above!
---
Sample Images
Here are several small samples in which you can see some of the nearly infinite combinations of settings possible.



---
StarSpikes Pro was used in the creation of these beautiful images, which have been recognized online as among the best in the world:
---